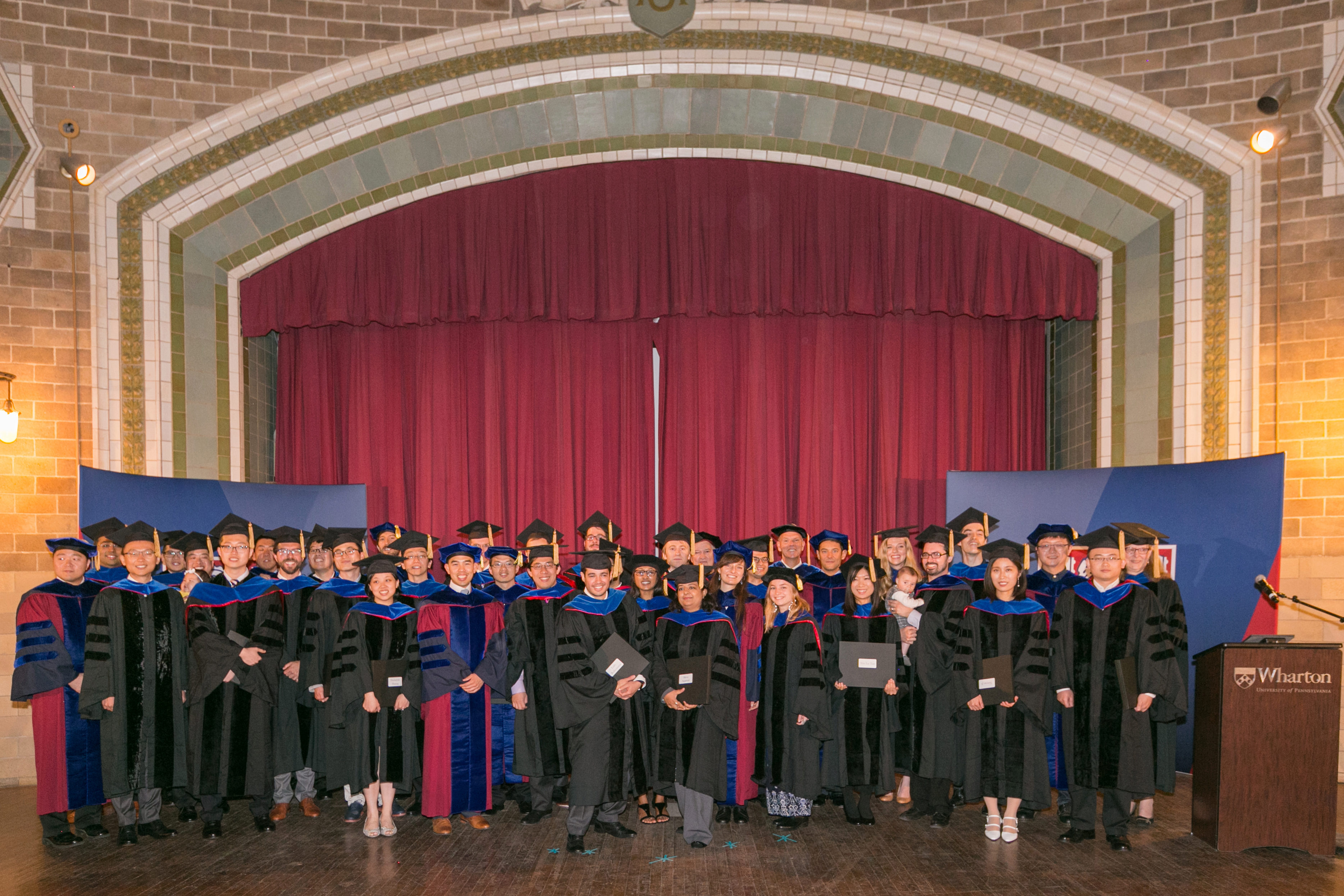 Friday, May 11, 2018 from 9:30 AM to 11:30 AM (EDT)
Zellerbach Theatre, Annenberg Center
Timeline:
8:15AM PhD students arrive at Annenberg Center no later than 8:15AM.  Your guests will not be permitted into Annenberg until 9AM
8:30AM-9:15AM Mandatory Graduation Rehearsal in Annenberg Center. We will be instructing you on procession as well as hooding. Continental breakfast is provided.
9:15AM Line up and procession to Zellerbach Theatre
9:25AM Dean, Deputy Dean, and Vice Dean will lead the student procession into the Auditorium. A tent card with your name will be on a seat within the reserved seating section at the front of the theater.
9:30AM-10:30AM Ph.D Hooding Ceremony
10:30AM-11:30AM Celebration Brunch
*Only Ph.D. students who have officially deposited the dissertation or have submitted the August Graduates Approval Form for May Commencement Participation (submitted by April 23rd) are eligible to participate in the Wharton Graduation Ph.D. Hooding Ceremony.
Graduation Fair and Regalia Order Information
All graduating students must be in academic regalia.  You can rent or purchase your regalia from the bookstore.  Please visit: UPenn Bookstore Graduation Page
Hooding Process
During the ceremony, your names will be called one by one.  The Vice Dean will say your name, title of your dissertation, and name of your Dissertation Supervisor, and name of who will be hooding you if your Dissertation Supervisor is unable to attend.
You will enter the stage using the stairs to the left of the stage, carrying our hood on your LEFT ARM
You will meet your Supervisor(s) at the center of the stage and shake hands
You will stand on the X in the center of the stage, hand your hood to your Supervisor, then face towards the audience
Your Supervisor will place the hood over your head
You will shake hands with the Dean and Deputy Dean and receive your certificate from the Deputy Dean
You, your Supervisor, Dean and Deputy Dean will stand on the marked X's on the stage, and face forward for a picture
You will exit the stage on the right with your Supervisor
Frequently Asked Questions
Do I need tickets? There are no tickets required for this event.
What should I wear? We ask that graduates wear an academic cap and gown and those graduates who received or are receiving the PhD degree carry the hood for the ceremony. Please see the "Graduation Fair and Regalia Order" section of this page for more information.
What should my guests wear? As this is a semi-formal event, we recommend business attire. (suits or sport jackets for men and tailored dresses or tailored suits or pantsuits for women).
How many guests can I invite? The number of guests is limited to immediate family members (spouse/significant other, parents, children) only. You may invite a total of 10 guests, but please keep keep these to immediately family members. This does not include your dissertation advisor or PhD coordinator.
Should I invite my advisor? You can definitely extend a personal invitation to your advisor. Faculty advisors will also receive an invitation from the Wharton Doctoral Programs office. You will not need to include your advisor in your guest count.
What if my supervisor is unable to attend? Can someone else hood me? Yes, you can have another committee member or faculty person hood you if your supervisor is not able to attend the ceremony.  Please email Gidget Murray (gmurray@wharton.upenn.edu) with the name of the faculty person who you plan to have hood you so that an invitation is sent to them.
Will there be parking/Where can my guests and I park? The closest parking lot is 38th & Walnut lot. Guests can enter either on Walnut Street or off of 38th Street (in between Walnut and Sansom). Parking vouchers will be provide at graduation ceremony for those who park there. Since there are several events occurring on campus the same day, it is suggested to arrive early as the parking lot may fill up. There will be a limited number of VIP parking passes available on Saturday. Upon arrival at Zellerbach, a Wharton representative will be distributing the parking passes for you to take with you when you exit the garage, so please make sure to pick one up before you leave.